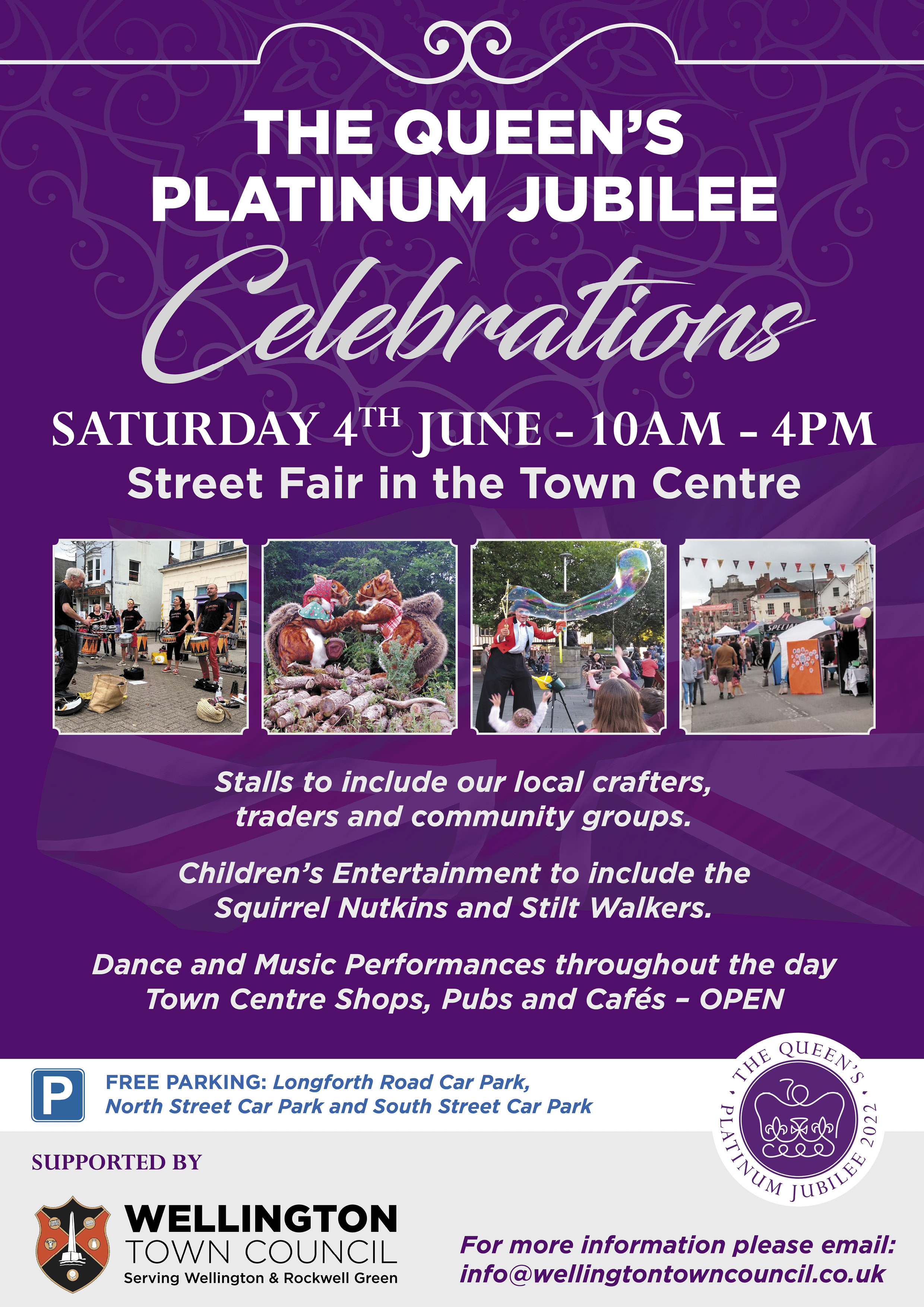 Wellington Town Council and the Queen's Platinum Jubilee
Her Majesty Queen Elizabeth II celebrates her Platinum Jubilee in June 2022 and there will be nationwide celebration over the extended bank holiday weekend. Wellington Town Council is involved with and supporting multiple events around town.
Thursday 2nd June – 9:30pm Beacon Lighting at Hilly Head
In the UK, Commonwealth, and throughout overseas territories, beacon will be lit to signify the beginning of the Platinum Jubilee celebrations. Wellington Town Council will be lighting our beacon on Hilly Head at 9:45. A bagpiper and bugler will be in attendance to take part in the lighting ceremony. There will be no refreshments or facilities available at this event, but we encourage people to attend if they wish.
Friday 3rd June – All day – People are invited to host their own street parties
This is the day where YOU are in charge! Street parties are a long-standing British tradition when celebrating royal milestones and we want this year to be one of the best. Get together with other residents in your neighbourhood and plan a party with food, drinks, and maybe even some music. For tips on hosting street parties and to apply for a road closure permit please follow this link: opens in a new windowhttps://www.gov.uk/organise-street-party
Saturday 4th June – 10am – 4pm Street Fair in the Town Centre
High Street and South Street will be home to over 50 stalls run by local groups and traders. There will be live entertainment throughout the day including walkabout performers from FUSE outdoor arts. The street fair will be a fun day out for the whole family!
To apply for a stall or to express an interest in performing, please email [email protected]. The application deadline is Saturday 30th April.
Sunday 5th June – 10am Civic Service and St John's Parish Church
Organised by Wellington Town Council and lead by Revered Martin Kirkbride this service marks the Queen's Platinum Jubilee. Attended by the Mayor of Wellington and a host of local dignitaries and important figures, this is one of the more formal events in our Jubilee calendar.
From 2:30pm
The Friends of Wellington Park are proud to present the Taunton Concert Band for an afternoon of music. Please bring along a picnic and the whole family for a wholesome end to the Platinum Jubilee celebrations. Children can enjoy activities organised by Churches Together while the grown-ups have a cup of tea and enjoy the band.