Cllr Wayne Battishill
Tel: 01823 975424
Cllr Wayne Battishill
[email protected]
Tel: 01823 975424
-
Wayne Battishill moved to Wellington in 2015 after living in Exeter for 38 years. He had been looking to relocate with his family. After his first visit to Wellington he instantly knew this was the perfect place for his family to grow. He now lives locally with his wife Richenda and son Robin.
Wayne has worked for the NHS for the last 16yrs in the Emergancy Department and have also been a reservist in the Army. These roles have given him the passion to serve the people in Wellington East Ward.
Since moving to Wellington Wayne have been passionate about bringing the community together in order to support one another and make Wellington a fantastic place to live. This inspired him to create the Cades Farm Facebook page; this is something he would like to expand as the councillor for Wellington East.
In his spare time Wayne can be found digging in a local allotment with his family. He enjoys walking his dog on the black down hills and cycling.
Wayne is delighted to serve the residents of Wellington East ward and will look forward to getting to know them and become a familiar approachable face around Wellington.
Cllr Janet Lloyd
Tel: 01823 672877
Janet Lloyd
[email protected]
Tel: 01823 672877
-
Janet moved to the Wellington area from Dorset 30 years ago. Janet is married to Ian and they have two sons, Ben and Daniel. Janet has been a Wellington Town Councillor since 2007 and served as Mayor in 2019-2021, a role she also carried out in 2014/16. Janet is a member of the Council's Environment and Open Spaces Committee, Staffing & Resources Committee and is Chair of the Allotments Committee. Janet became involved in local politics as she wanted to help the local community of Wellington and its residents. Janet is a former volunteer youth leader and is very keen to help the young people of the town. Janet has worked for both national and local government for nearly 30 years but now works in a Nursing Home in Wellington. Janet's hobbies include gardening and watching cricket. Janet is a member of Somerset Cricket Club and follows Somerset both at home and away. Janet was elected to Somerset West Taunton Council (East Ward) 2019.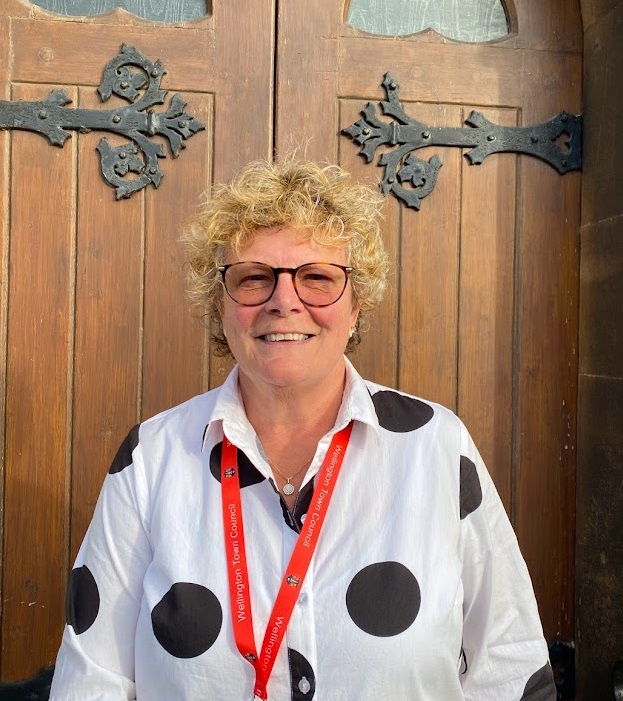 Deputy Mayor Cllr Nancy Powell-Brace
Tel: 07565 688827
Cllr Nancy Powell-Brace
[email protected]
Tel: 07565 688827
-
Nancy Powell-Brace followed a long line of teaching dynasty in her family as a Secondary school teacher of Drama for 32 years. After significant changes in Education policy she took early retirement and moved to Wellington 5 years ago. Once in the town Nancy immersed herself in many community activities and, with her sister-in-law, opened Odette's Tearoom on the High Street. Nancy brings a wealth of experience to her role as Town Councillor drawing on 17 years work with the teacher's union NASUWT as a Negotiating Secretary and Caseworker. Nancy is absolutely delighted to have been accepted on to your council.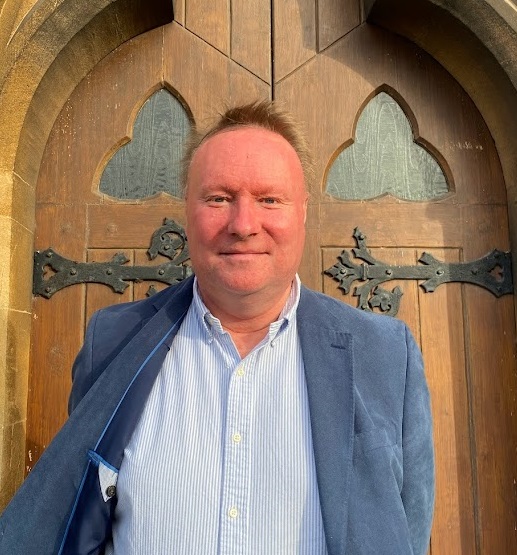 Cllr Ross Henley
Tel: 01823 665988
Cllr Ross Henley
[email protected]
Tel: 01823 665988
-
Ross lives in Wellington with his family and was educated in the town and has lived here for about 35 years. He has represented Wellington East for about 20 years on Wellington Town Council. His hobbies and interests are watching films at The Wellesley and watching sport. Ross says Wellington is a great place to live and he wants to support its future.
Ross is also a Somerset West and Taunton Councillor for the Blackdown Hills.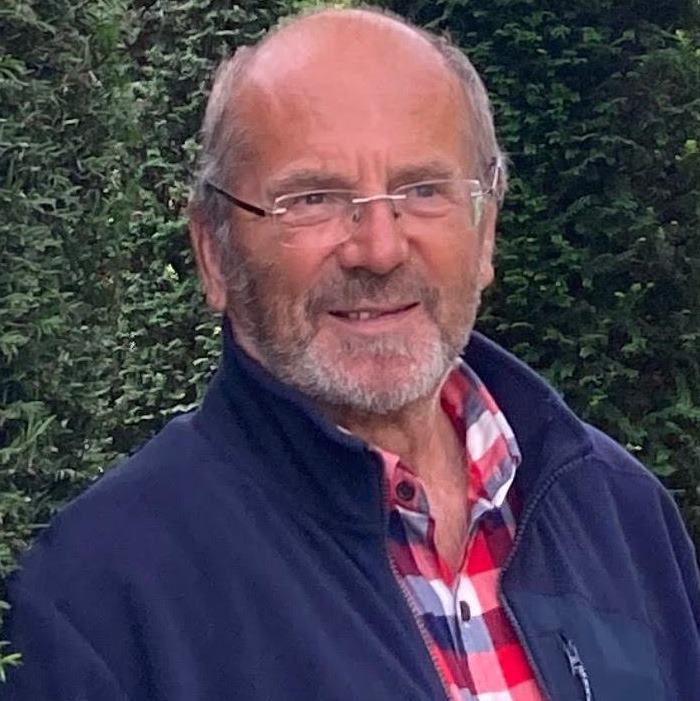 Cllr Keith Wheatley
Tel: 07710326698
Cllr Keith Wheatley
Tel: 07710326698
E: [email protected]
Keith is a Devonian who crossed the border to Wellington 15 years ago and has lived very happily in the town ever since. After teaching A-level Politics at a Taunton school for a decade he decided it was time to risk an election himself. In 2019 Keith was successful in becoming one of two councillors for Wellington East on the newly formed Somerset West and Taunton district council, with primary interests in economic development and public transport.
Away from council activities Keith is one of the founders of the Wellington Mills community interest company, a campaigning group that has been working since 2018 with the SWT heritage team to encourage an imaginative regeneration of the former textile mills at Tonedale.
Keith is also chair of the Wellington Film Festival, due to be held for the first time in the autumn of 2022.
Mayor Cllr Mark Lithgow
Tel: 01823 662540
Mayor Cllr Mark Lithgow
[email protected]
Tel: 01823 662540
-
The current serving Mayor for the 2021-22 year, Councillor Mark Lithgow has lived in Wellington since 1985 and is married and has 3 grown children, who were all educated in Beech Grove primary and Court Fields schools.
Mark's main reason for wanting to become a town councillor, is to be a voice for the residents of Wellington, especially for the more vulnerable residents such as the young or elderly. Mark hopes to help co-ordinate discussions between the groups of people that help them, such as the police or social services, to make the help more effective and to help keep the Wellington One Team sustainable.
He feels it is important to work collaboratively with the other councillors, regardless of their political party, to get the best for the people of Wellington.
As well as an interest in politics, Mark is also a Samaritan and has been for many years, is the President of the Wellington St John Ambulance Adult division where he helps to promote the volunteers and celebrates their achievements. Also Mark is a keen motorcyclist.
Cllr Samuel Booker
Tel: 07999 469540
Cllr Samuel Booker
Tel: 07999 469540
Elected in 2022 at the age of 19, Sam currently works in the Public Health Department at Somerset County Council and has lived in Wellington his entire life. He is the former Chair and current Vice-Chair of Taunton Deane Labour Party and has campaigned nationally for better representation of youth within local and national government.
Sam has been active in local politics since he was 14, when he campaigned to save the Wellington-Wiveliscombe bus service which was crucial for Kingsmead School students who lived in Wellington and the surrounding area, appearing on BBC Radio Somerset and in local newspapers. Since then, Sam has been passionate about improving the local area and helping local people. He is a big supporter of local businesses and shops independently as often as he can.
Sam has represented the town playing for Wellington Football Club as a boy, and both the County of Somerset and South-West Region playing handball. He is a big fan of sports and can often be seen playing football at the rec.
Sam lives with his partner Annie and their two dogs, Pluto and Nova, in Old Court Mews, at the heart of Wellington North Ward. His father is a floor fitter and his mother a Civil Servant. Sam is delighted to have been given the opportunity to represent the people of Wellington and is keen to ensure that Wellington's public services grow to match the increased residential development within the town.
Cllr John Thorne
Tel: 01823 663146
Cllr John Thorne
[email protected]
Tel: 01823 663146
-
John was elected in May 2015. He has previously served on Taunton Deane Council. John has lived in Wellington since the age of 10. He trained as a journalist on the Wellington Weekly News and worked for many newspaper groups in the westcountry before moving into a career in public relations. He also worked for a Home Office organisation recruiting volunteers aged 50 and over to use their life skills to help voluntary groups. Currently, John is a single parent to two young sons and works as a cleaner at an office and warehousing site. John has helped with campaigns for local people. He has also been a governor of the former Linden Infants School and served on the committees of Wellington Food Town and Wellington Carnival. John was chairman of a NHS watchdog group in Taunton Deane and was involved in the refurbishment of Wellington Cottage Hospital resulting in enhanced outpatient and new clinical services.John played football locally. He is a qualified football referee and continues to officiate most weekends of the season across Somerset, Dorset, and Devon. John has run his own businesses and is a former chairman of Wellington Chamber of Commerce. He feels strongly about the need to attract new jobs to Wellington alongside all the new housing development which has been going on, by encouraging new and existing enterprises and supporting major employers such as Relyon and Aerosols International to remain here, as well as the need to make the best possible use of the former Fox's factory sites. John is a former national trades union official. He enjoys using his life skills for problem resolution and directing people to organisations and/or individuals who can help them.
John also represents Wellington East as part of the Blackdown & Neroche Ward on Somerset County Council.
Cllr Mike McGuffie
Tel: 07922 83 17 33
Cllr Mike McGuffie
[email protected]
Tel: 07922 83 17 33
-
Mike has lived in the Wellington area for 19 years, first in Langford Budville and since 2010 in North Wellington and currently in Tonedale. Mike's career was in IT and auditing but for the last five years he has been a full time homemaker for his family. He has been a governor at his childrens' primary school and is active in the Local Friends of the Earth, Oxfam fundraising and Peace groups. He thinks Wellington is a lovely town and is interested in how we can make it more sustainable, improving the environment and reducing pollution while ensuring the homes and facilities people need are available.
Cllr Chris Booth
Tel: 07956607829
Cllr Chris Booth
[email protected]
Tel: 07956607829
-
Chris has lived in Wellington since 2018 having lived in Taunton most of his life.
He is keen to ensure Wellington has more planning power and welcomes a more collaborative approach to giving Wellington residents a better voice.
He is also keen that Wellington has a strong voice in order to achieve its ambitions whilst retaining its unique identity.
Chris is also a member of Somerset West & Taunton Council and is the Executive Member of Community. He is very impressed by the dedication of the many voluntary and community organisations in Wellington and wants to see them supported and grow.
At 30 years old, Chris is keen to show that being a councillor is not only available to people of all ages but of all backgrounds and beliefs. He is also always happy to talk on any issue and how he can help.
Cllr Catherine Govier
Tel: 07928425163
Cllr Catherine Govier
Catherine grew up in Wellington and attended Wellesley Park Primary School and Wellington School. She finished school in 2013 and left the town to go to university at King's College London where she did a degree in Classics. On leaving university she returned to Wellington and worked as a volunteer at Wellington Children's Centre for a short time. She was then employed by the housing charity Shelter, who she worked for, for five years in London, helping people with their housing problems ranging from homelessness to disrepair.
She moved back to Wellington at the end of last year and wanted to take the opportunity to stand as a councillor so she can advocate for the people of the town and bring a new voice to the Town Council. She now lives with her partner, Jack, in Mantle Street and works alongside him as co-director of their online marketing business. She has recently started volunteering as an Independent Visitor with young people in care and in her spare time, she enjoys playing hockey and going to the cinema.
Cllr Marcus Barr
Tel: 01823 661817
Cllr Marcus Barr
[email protected]
Tel: 01823 661817
-
Marcus Barr is a Conservative Councillor for the South Ward. He has lived in the village for over 20 years and has represented the residents for the past four years on Wellington Town Council.
He recently started Rockwell Green Matters, a monthly publication and Facebook page, so that the people of the village had a voice and also some local information.
Since he's been on the Council he has reacted to your requests for a defibrillator, new dog-mess bins, gym equipment at Dobree Park playground and the only table-tennis table in Wellington!
He passionately cares about the community in Rockwell Green and how life there affects every resident.
He wants to see it continue to be properly represented and a great place to live.
Cllr Andrew Govier
Tel: 01823 667589
Cllr Andrew Govier
[email protected]
Tel: 01823 667589
-
Andrew has lived in Wellington all his life and attended Linden Infants, Beech Grove and Wellington Schools. On leaving school he went to work for the Ministry of Defence at the Hydrographic Office in Taunton. He then spent two years working for the MOD in Bath before moving to the Charity Commission in Taunton.He currently works as a Financial Advisor.
He is married to Jackie and has two daughters.
Andrew became involved in local politics because he wanted to make things better for Wellington and Rockwell Green.
He has been very keen to promote the town and to get extra facilities for the local people. He led the campaign to save Wellington Playing Fields from the threat of development; he helped to get a new sports hall at Courtfields School and to get extra facilities at all of the town Primary Schools. He was successful in helping to save Wellington Youth Centre from possible closure and is now Chairman of the Committee that runs it.
Andrew is also a member of Taunton Deane Borough Council and Somerset County Council. He served as Mayor of Taunton Deane in 2003 and 2004 and as Mayor of Wellington from 2010 until 2012.
Andrew is a Christian and member of St. John's Parish Church.