28 May

COVID-19: Mayor and councillors back box scheme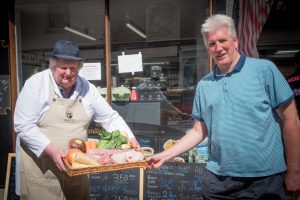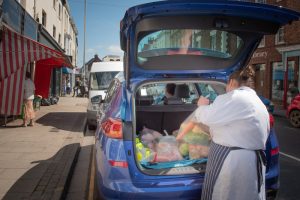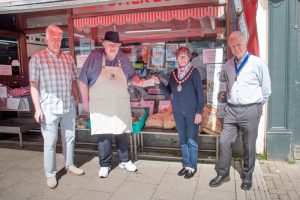 Tim Potter Butchers 'Paid Forward' Meat and Veg Box gifting scheme has been a huge success! Tim launched an appeal for the local public to purchase 'Potters Pounds' gift vouchers to pay for fruit and veg boxes gifted to families most in need at this difficult time and has raised over £1000 so far.
The Meat and Veg Boxes are worth £20 (cost price as opposed to retail) contain an assortment of locally sourced fresh produce and vegetables.
Example contents include free range eggs, diced Pork, potatoes, carrots, rashers of Somerset smoked back bacon, Wellington Traditional Pork Sausages, Beef Mince, Faggots, Boneless Pork Shoulder Joint, 8oz Beef Burgers.
Tim's suppliers have pitched-in and kindly donated a great amount of fresh vegetables, so the boxes contain far more produce than previously advertised.
All local schools were contacted at the beginning of the week to nominate families who could benefit from extra support and assistance at this difficult time. The response was immediate and immense, further underpinning the need for such a scheme at this time, proving the fact that it had to proceed at pace.
As a result, yesterday saw a team of volunteers from local schools and Welly Angels meet at Tim Potter's Fore Street Butchers shop to pick-up thirty-four meat and veg boxes to distribute across Wellington and Rockwell Green. The recipients were delighted with the produce and it was lovely to be able to help them out with top quality fresh produce.
Janet Lloyd, Mayor of Wellington and Rockwell Green said "I am delighted to support this scheme and it has proved to be an excellent project. We know these are tough times for many families in Wellington and Rockwell Green. The pandemic has left many families without employment and short of money. The scheme has raised over £1000 so far and the council is delighted to bolster these efforts in donating a further £500 towards the scheme so further boxes can be delivered to families next week during half term."
Volunteers who helped deliver the donated boxes included Councillor Andrew Govier, Bridgette Sells (Nurse, Wellington School), Deborah Eveleigh (Head mistress Webber's C of E School), Sophie Heggadon (Attendance Manager, Court Fields School ) and Mark Stephenson (Welly Angels).
Councillor Andrew Govier said that the families who received the boxes were very pleased indeed and that her was humbled to see so many people coming together to support and help the initiative.
"This scheme allows families on little or no income to receive high quality, nutritious food from a very well-respected local business. Local residents have already shown their willingness to support these families in the town through their generous donations and is another example of the excellent community spirit that we have here in Wellington and Rockwell Green."
Tim Potter Butchers has been so impressed by the number of people willing to support the campaign and are very happy to be able to help those in need at this difficult time through the generosity of regular customers, local businesses and the town council in donating funds to forward-pay the boxes.
Tim Potter, Director at Tim Potter Butchers concluded "Since the start of the Covid-19 pandemic, we have seen an unprecedented number of customers requesting free home delivery due to being in isolation. We have decided to introduce this gifting scheme to help those in isolation who are struggling to make ends meet in this desperate situation. We have been overwhelmed with offers of support received so far and thank all of those who have donated vital supplies to those who need them most."